Ambassador Thomas Graham Jr.
Chairman of the Board of Directors
Ambassador Thomas Graham Jr. served at the Arms Control Agency from 1970-1997 in many capacities. During this period he served in a major role in every significant arms control and non-proliferation negotiation in which the United States took part including: the Salt I, Salt II and Start negotiations as well as the test ban, conventional armed forces in Europe, chemical weapons, biological weapons and Nuclear Non-Proliferation Treaty extension negotiations.
Ambassador Graham served for nearly three decades at the U.S. Arms Control and Disarmament Agency, including a decade and a half as general counsel as well as Acting Director of the agency for most of 1993. In 1993 he led the effort to establish a long-term moratorium on the conduct of nuclear weapons tests. From 1994 to 1996, he was a principal figure in the worldwide effort to successfully support the conclusion of the Comprehensive Test Ban Treaty negotiations.
In 1994 President Clinton appointed Thomas Graham Jr. as his special representative for arms control, non-proliferation and disarmament, with the rank of Ambassador. From 1993 to 1995 Ambassador Graham led the successful U.S. government effort to indefinitely extend the Nuclear Non-Proliferation Treaty.
From 2009 to 2016, Ambassador Graham served on the International Advisory Board of the Nuclear Program of the United Arab Emirates. The mission of the Board was to help maintain the highest standards of safety, security, non-proliferation, transparency, and sustainability in the development of the Program.
Ambassador Graham has taught at—among others—Stanford University, University of Virginia, Georgetown University, University of Washington, and Oregon State University. He has authored 10 books, written articles, and given legislative testimony. Among his books are: Disarmament Sketches, 2002; Unending Crisis, 2012; and Seeing the Light, the Case for Nuclear Power in the 21st Century, 2017. He received an A.B. in 1955 from Princeton University and a J.D. in 1961 from Harvard Law School. He is a member of the Kentucky, the District of Columbia, and the New York Bars.
In 1995 Ambassador Graham received the Trainor Award for Distinction in Diplomacy from Georgetown University and in 2006 the World Order under Law from the American Bar Association. He received the Distinguished Honor Award twice, the Superior Honor Award twice, and the Meritorious Honor Award once from the Arms Control Agency. He also received the Meritorious Honor Award from the Department of State.
In May 2019 Ambassador Graham was selected as Co-Chairman of the Nuclear Energy and National Security Coalition based at the Atlantic Council.
Sweta Chakraborty, Ph.D.
Director
Dr. Chakraborty became a director of the Company in September 2021. Dr. Chakraborty is a globally recognized risk and behavioral scientist and expert on risks ranging from climate change to COVID-19. She has spent the last 12 years advising government agencies on science and technology policy, specifically incorporating behavioral science in programmatic design and delivery, communication, and engagement activities. She has directly designed and implemented internal and external communication strategies informed by behavioral science in collaboration with Fortune 100 global companies, such as Mars Inc., Novartis, and PVH Corp.
Dr. Chakraborty earned a B.S. in Decision Science from Carnegie Mellon University, a Ph.D. in Behavioral Science from Kings College London, and completed post-doctorate work at Oxford University.
Dr. Chakraborty is regularly interviewed on major international news media outlets, including CNN, the BBC, Fox News, Sky News, and ABC. She was a keynote speaker at SXSW 2019, 2020, and 2021 and a speaker at TEDxCalgary 2020. Dr. Chakraborty has written extensively in peer-reviewed journals, contributed op-eds to publications like The Hill, and is currently working on her second book on adaptation to global risks. She directed a non-partisan science and technology policy institute and communicated its primary findings and policy recommendations to global stakeholders, ranging from the public to policymakers. She created and led a US-based live, weeklong virtual production for Earth Day 2020's 50th Anniversary broadcast to 140 countries during the COVID lockdown, resulting in a two million+ daily reach. She produces and co-hosts the popular weekly radio show and podcast "Risky Behavior" and launched and hosted "The Climate and Security" Podcast and a special series on nuclear as a fellow for The Center for Climate and Security. In September 2021, Dr. Chakraborty co-authored a piece featured on Morning Consult titled: IPCC Report Underscores Why the United States Must Embrace Nuclear Power to Avoid a Climate Disaster.
Mr. Jesse Funches became a director of the Company in August 2021. Mr. Funches has more than three decades of regulatory experience, including ten years as Chief Financial Officer of the U.S. Nuclear Regulatory Commission (NRC). In that capacity, reporting to the Chairman, he served as a key member of the senior management team that set the strategic direction for the agency and addressed policy issues. He established internal controls and risk management, achieving an unqualified assurance statement on the federal version of Sarbanes Oxley. Mr. Funches liaised directly with Congress and the Office of Management and Budget on financial and regulatory program issues and oversaw all aspects of agency-wide budgeting, performance evaluation, and strategic planning. Mr. Funches worked closely with the agency's chairman, commissioners, and program managers to license new power reactors and nuclear fuel cycle activities.
Prior to working at the NRC, Mr. Funches spent six years at the Office of the Secretary of Defense in the Pentagon. As an Operations Research Analyst, he completed analyses and studies for use by the Secretary of Defense in making decisions on defense programs and activities and developed planning and fiscal guidance for use by the military departments.
Mr. Funches earned a B.S. in Mathematics from Jackson State University, an M.S. in Applied Mathematics from the University of Illinois, and an MBA from Loyola College.
He has won numerous awards throughout his career. In addition to winning the 2004 Donald L. Scantlebury Memorial Award (the federal government's highest award for excellence in financial management), Mr. Funches is a three-time recipient of the Presidential Rank Award for Meritorious Senior Executives and a two-time winner of the NRC's Distinguished Service Award. Mr. Funches was also an active member of the Federal Chief Financial Officers Council, a collection of senior-level officials working to improve government-wide financial issues.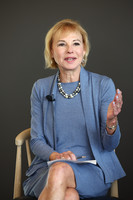 Ms. Goodman became a director of the Company in April 2023. Ms. Goodman serves as Vice-Chair of the U.S. Secretary of State's International Security Advisory Board (ISAB) and on the EXIM Bank's Council on Climate. She is also the Secretary General of the International Military Council on Climate & Security (IMCCS), representing over 40 military and national security organizations addressing the security risks of a changing climate. She is credited with educating a generation of U.S. military and government officials about the nexus between climate change and national security, using her famous coinage, "threat multiplier," to fundamentally reshape the national discourse on the topic. She is a Senior Fellow at the Woodrow Wilson International Center's Polar Institute and Environmental Change & Security Program and a Senior Strategist at the Center for Climate & Security.
Ms. Goodman chairs the Council on Strategic Risks Board and the External Advisory Board on Energy and Homeland Security for Sandia National Laboratories. She serves on the Climate Council of the US EXIM Bank and the National Academies Advisory Board of the U.S. Global Change Research Program. She serves as a U.S. Board Director for the SSA operated by Schneider Electric Building Critical Systems, Inc. Ms. Goodman is a Board Director of the Atlantic Council and a Life Member of the Council on Foreign Relations.
Ms. Goodman served as the first Deputy Undersecretary of Defense (Environmental Security) (1993-2001), responsible for environmental, energy, safety, and occupational health for the U.S. Department of Defense. Ms. Goodman established the Department's first environmental, safety, and health performance metrics and led its energy, environmental, and natural resource conservation programs. Overseeing the President's plan for revitalizing base closure communities, she ensured that 80% of the property became available for transfer and reuse. She led the Secretary of Defense's Arctic Military Environmental Cooperation program, which developed a container for storage of spent nuclear fuel for liquid waste from Russian nuclear submarines. Ms. Goodman served on the Senate Armed Services Committee staff, overseeing the Department of Energy's nuclear weapons complex, including research and development of nuclear materials and national labs and environmental cleanup and management. She has practiced law at Goodwin Procter as a litigator and environmental attorney and has worked at RAND and SAIC.
Ms. Goodman has received numerous honors and awards, including an Honorary Doctorate from Amherst College in 2018, the Department of Defense Distinguished Service Award in 1998 and 2001, the Gold Medal Award from the National Defense Industrial Organization in 1996, and the Environmental Protection Agency's Climate Change Award in 2000. A graduate of Amherst College, she has degrees from Harvard Law School and Harvard Kennedy School.
Seth Grae
President and Chief Executive Officer
Mr. Seth Grae leads Lightbridge's efforts to develop and deploy advanced nuclear reactor fuel that will result in more electricity being provided from existing and new reactors, as well as enhanced safety and proliferation resistance, to allow nuclear power to compete and grow internationally as a non-emitting source of base load electricity.
Lightbridge has also advised governments of countries seeking to start nuclear power programs from feasibility studies through procurement and operations. Lightbridge's first major international engagement was to develop the strategic plan—the Roadmap for Success—for commercial nuclear energy for the United Arab Emirates.
Mr. Grae is a member of the Civil Nuclear Trade Advisory Committee (CINTAC) to the U.S. Secretary of Commerce, Nuclear Energy Institute's Board of Directors, American Nuclear Society's Trustees of Nuclear Leadership Council, Working Group on Climate, Nuclear, and Security Affairs of the Council on Strategic Risks, and Board of Directors of the Virginia Nuclear Energy Consortium. He is also a member of the Dean's Advisory Council at the Washington College of Law at American University. He has served as a member of the Nuclear Security Working Group, Nuclear Energy and National Security Coalition, Vice Chair of the Governing Board of the Bulletin of the Atomic Scientists, member of the Board of Directors of the Lawyers Alliance for World Security, and as Co-chair of the American Bar Association's Committee on Arms Control & Disarmament.
Mr. Grae earned a B.A. (cum laude) from Brandeis University, an MBA and an LLM in international law from Georgetown University, and a JD from American University.
Daniel Magraw Jr.
Director
A member of the Board of Directors of the Company and its predecessors since 1996, Mr. Daniel Magraw Jr. is a leading expert on international environmental law and policy, as well as on international human rights. He is a Senior Fellow and Professorial Lecturer at the Foreign Policy Institute at Johns Hopkins School of Advanced International Studies (SAIS) and President Emeritus of the Center for International Environmental Law (CIEL). Mr. Magraw was the President and CEO of CIEL from 2002-2010. Mr. Magraw is chair of the American Bar Association (ABA) Section of International Law's Carta de Foresta Task Force, serves as a consultant to the United Nations, was a member of the U.S. Department of State Study Group on International Business Transactions, and was Chair of the 15,000-member Section of International Law and Practice of the ABA.
From 1992-2001, Mr. Magraw was Director of the International Environmental Law Office of the U.S. Environmental Protection Agency, during which time he also served at the White House (2000-2001) and as Acting Assistant Administrator of the EPA's Office of International Activities. He was a member of the Trade and Environment Policy Advisory Committee to the Office of the U.S. Trade Representative (TEPAC) from 2002-2010.
Mr. Magraw practiced international law, constitutional law, and bankruptcy law at Covington & Burling in Washington, DC from 1978-1983. Mr. Magraw is a widely-published author in the field of international law and has received many awards. He graduated from Harvard University with High Honors in Economics, where he was student body president, and from the University of California, Berkeley Law School, where he was Editor-in-Chief of the Law Review. While working as an economist for the Peace Corps in India from 1968 to 1972, Mr. Magraw helped develop and managed the largest and most successful cooperative of its type (wholesale, retail, furniture manufacturing and food processing) in India.
Mr. Tobin became a director of the Company in September 2021. Mr. Tobin is a global finance and strategy executive with over 24 years of experience in international investment banking and public company leadership. Currently, Mr. Tobin serves as Chief Financial Officer at infrastructure services provider National Underground Group and serves on the board of data storage solutions provider Qualstar Corporation.
Previously, Mr. Tobin served as chief financial officer of global industrial printer manufacturer Printronix, independent director & audit committee chairman of Innovation Pharmaceuticals, Inc., a publicly-listed clinical-stage biopharmaceutical company, and as executive vice president and chief financial officer of Nanoflex Power Corporation, a publicly-listed solar technology company. Prior to that, Mr. Tobin served as Director of Research and as a Senior Research Analyst at Roth Capital Partners, where he oversaw equity research on hundreds of small-cap public companies, publishing research on publicly-traded energy infrastructure companies including nuclear power, wind power, solar power, and electric transmission & distribution. Mr. Tobin began his career as an officer in the United States Air Force, overseeing advanced technology development programs and representing the U.S. as a NATO delegate. He graduated with honors from the U.S. Air Force Academy with a Bachelor of Science in Management and received an MBA from the University of Pittsburgh.